Hear4U are now offering a complimentary Phonak Charge & Care hearing aid charging case with every single purchase of Phonak Audéo-brand hearing aids!
This smart, easy-to-use piece of kit allows you to not only charge your hearing aids on-the-go, but it can also dry and clean them with the simple push of a button. What's more, the Charge & Care comes with an in-built ultraviolet light to treat your hearing aids once inside.
The gadget is suitable for the entire Audéo range, from Marvel to Paradise – the latter being the flagship Phonak hearing aid, and an excellent choice for people who suffer from all types of hearing loss from mild to severe.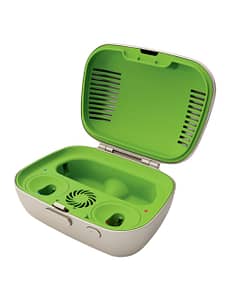 Indeed, the Paradise comes with a whole host of fantastic features, and are completely wireless thanks to the latest Bluetooth technology. In addition, they benefit from being powered by the next generation of Lithium-ion rechargeable battery technology, which means that you can enjoy crystal-clear hearing for longer than ever before. Combined with the Charge & Care, you need never run out of battery life when out and about again!
Some of the Paradises' key features are as follows:
Thanks to their adjustable, intuitive controls, the Paradise can amplify the person you wish to hear without making their voice overpowering.
Increased balance between speech integrity with comfort
Sacrificing none of the comfort for all the hearing power you might need, this is a hearing aid that truly strikes an equilibrium between the two.
Dynamic noise cancellation
If you find yourself in a busy environment, then worry not: with dynamic noise cancellation, the hearing aid will automatically detect huge changes in your aural environment and react accordingly.
Improved hearing awareness while walking
Courtesy of the Paradises' Processing Realtime Intelligent Sound Management (PRISM) chip, which enables it to adjust every second, the Paradise is excellent when walking from one environment to another.
That same chip allows for clear, polished sound just as in the real world.
With better processing power comes better memory, and the Paradise is no exception.
With a broader range of accessories to connect to than ever before thanks to Bluetooth, the Paradise is a true multi-functional device.
Motion-activated features
The new motion sensor hearing that comes in-built with the Paradise takes into account moving objects all around for precise hearing.
Simple touch controls mean that your hearing aid is more intuitive than ever.
App integration & control
The fantastic myPhonak app connects seamlessly to your hearing aids via iPhone or Android, and includes a whole host of bonus features and controls.
Connect up to 8 devices via Bluetooth
Its Bluetooth integration doesn't end at the extent of devices it can connect to, but the sheer amount it can connect to at any given time. Up to 8 devices can be paired simultaneously, with instant switching between two at a time.