Thanks to the continuous advances made in modern technology, the hearing aid industry has changed majorly in recent years. Hearing aid users can now enjoy many new features that not only increase efficiency and functionality, but also improve wearing comfort and self-confidence thanks to the various new designs and styles available.
One of the most exciting developments in the industry has definitely been the introduction of rechargeable hearing aids. Despite disposable batteries still being the most prevalent choice, rechargeable solutions are becoming more and more popular due to the convenience they provide.
Below, we've picked out our favourite rechargeable hearing aid models created by leading hearing aid manufacturers to share with you:
One of the most advanced rechargeable hearing aid options on the market, OMNIA™ by GN ReSound offers up to thirty hours of use on just one charge cycle. Available in a wide range of colours to match your style, this hearing aid is suitable for individuals with mild to severe hearing loss.
OMNIA™ is GN ReSound's most intelligent and automated hearing aid yet, and provides users with impeccable speech understanding and clarity of sound even in the most difficult listening environments:
360 ° all-around sound environment mapping
Sped up processing and steering for faster mode detection and selection
Narrowed beamforming for increased precision for GN ReSound's best speech clarity
Powered by GN ReSound's own Organic Hearing ™ technology
This state-of-the-art device also lets users stream hands-free phone calls directly into their hearing aids, allowing them to seamlessly and easily communicate with those they would like to connect to.
Thanks to Phonak's most recent innovation, users can now enjoy a full day of hearing provided by just three hours of charging! The device features a sleek, elegant design and is available in a variety of neutral colours, including beige, gold, brown, champagne, silver, grey, black, and rose gold.
Equipped with Phonak's SmartSpeech™ Technology which expertly analyses every listening environment and adapts accordingly, this hearing aid provides an excellent listening experience in any environment without requiring the user to manually adjust the device's settings.
Phonak Audéo™ Lumity comes with a range of additional features, including:
Ultimate connectivity to all iOS and Android smartphones, in addition to TVs, Roger devices and other wireless accessories
The first rechargeable waterproof hearing aid: it can be submerged in up to ½ meter of fresh, salt, or pool water
Health data tracking allows users to track step count, activity levels, and set health goals
Sleek and stylish, Oticon's Opn S™ can be recharged at night to allow wearers to enjoy a full day of hearing. Thanks to its improved technology, it provides users with a 360⁰ sound experience and speech understanding comparable to this of people with normal hearing!
It also prevents whistling: one of the most commonly experienced issues by hearing aid wearers. Thanks to Oticon's Open Sound Optimizer™ technology, annoying whistling sounds are detected and prevented before they even occur.
The device's key features include:
Velox S™ Platform including increased memory, a proactive feedback management system, and high-sensitive detectors which measure changes within the soundscape 56,000 times per second
OpenSound Optimizer™ stops feedback to prevent whistling before it happens
OpenSound Navigator™ allows wearers to focus on the sounds they want to hear, creating a balanced and comprehensive listening experience
BrainHearing™ designed to replicate the way in which sound is normally processed in the brain, creating a natural, seamless experience
Providing 24 hours of power in a single charge, Starkey Evolv AI features top-range technology that easily adapts to every user's lifestyle. The model includes:
Impeccable sound clarity even in noisy environments
Improved connectivity, allowing users to take and end calls directly from their hearing aids
Health and activity data tracking not only lets the wearer track the health of their brain and body, but it also allows the hearing aids to detect falls and send out alerts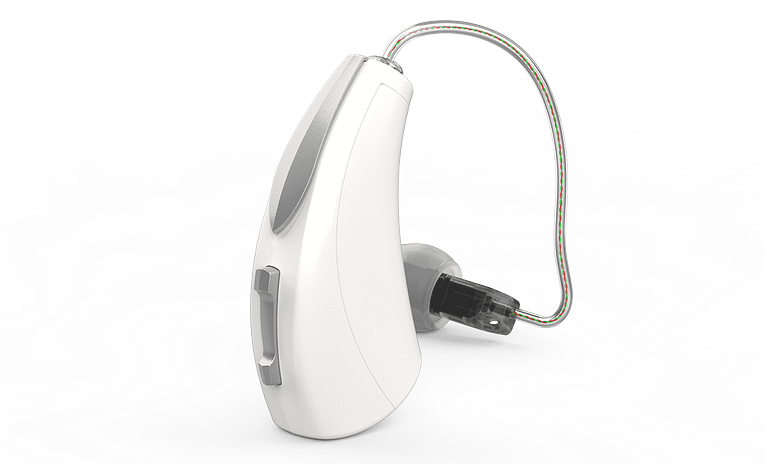 Thanks to Starkey's smartphone app, you are able to make any adjustments you'd like, remaining in control of how you hear at all times. Furthermore, Evolv AI allows users to process speech and other sounds, such as music, differently. This brings their listening experience as close as possible to the way they would hear naturally.
In addition to the rest of its incredible features, Evolv AI is also able to transcribe conversations into text which can later be shared, as well as translate foreign languages directly into your ear.
The smallest rechargeable RIC (receiver-in-canal) hearing aid, Widex MOMENT™ is simple and easy to charge. The hearing aid provides a full day of usage on just 4 hours of charging and allows users to enjoy a natural, seamless listening experience.
PureSound™ technology provides excellent sound clarity
ZeroDelay™ processing allows sound to be transferred 8-20 times quicker in comparison to other digital hearing aids to create a more realistic experience
Compact design perfect for users who prefer discreet models
WIDEX MOMENT™ app makes it easy to stream music, TV, or conversations
Designed to reduce the risk of moisture damage, this amazing device also features water-resistant nano coating, durable microphones, and smart engineering, leaving fewer gaps for moisture to sneak through.
Are you currently looking into switching to a rechargeable hearing aid solution? Hear4U can help! We use top-range diagnostic equipment to comprehensively assess your ability to hear and identify the most suitable treatment. We also offer a wide range of the latest hearing aids, allowing us to provide you with the highest quality of hearing care available.
Click here
to book your free, no-obligation hearing test with us!