Ask yourself the following:
Do you feel uncomfortable in social situations because you cannot follow the conversation?
Are you persistently having to turn up the volume on your TV?
Does your partner get frustrated at having to repeat themselves?
If you answered 'yes' to any of the above, then you may have the beginnings of a hearing problem. Don't worry – it may not necessarily mean that you have permanent hearing loss. It could be that you simply have an earwax problem, one of the most common ailments in the country.
Take a test!
The best way to make sure is to undergo a hearing test. At Hear4U we offer examinations either in-house or at your home, whichever is most convenient for you.
This is the best possible way to give a full assessment of your hearing, and, by doing so, get you the treatment you need.
What does it involve?
A Warm Welcome
Upon arrival at one of Hear4U's hearing centres you will be shown a comfortable seat, a pleasant smile from the receptionist and a hot beverage within minutes.
Initial Assessment
Your audiologist will introduce themselves and take you inside one of our assessment rooms. Once there, you'll notice a plethora of technology – in particular, you'll notice large TV screens. These are in place so that you can see everything that the audiologist sees. Next, the audiologist will ask you a series of questions about your hearing and general health. This is to ascertain what issues you are facing and how best to reach 100% satisfaction from your stay.
Video Otoscopy
The first point of diagnosis is the otoscopy. This involves looking inside your ear with a camera (which appears on the aforementioned screen) to see if there are any blockages. If you have an excess of earwax, our audiologist will then suggest further treatments and potentially a course of cerumenolytics (earwax softening agents) prior to removal.
Audiometry Test
This is a comprehensive review of your hearing ability. It's also the part where the screen becomes vital: our audiologist will show you your levels and how they compare to the average in order to discover where the problem lies. They will use the following chart (nicknamed the 'speech banana') to show you specifically what your issue is: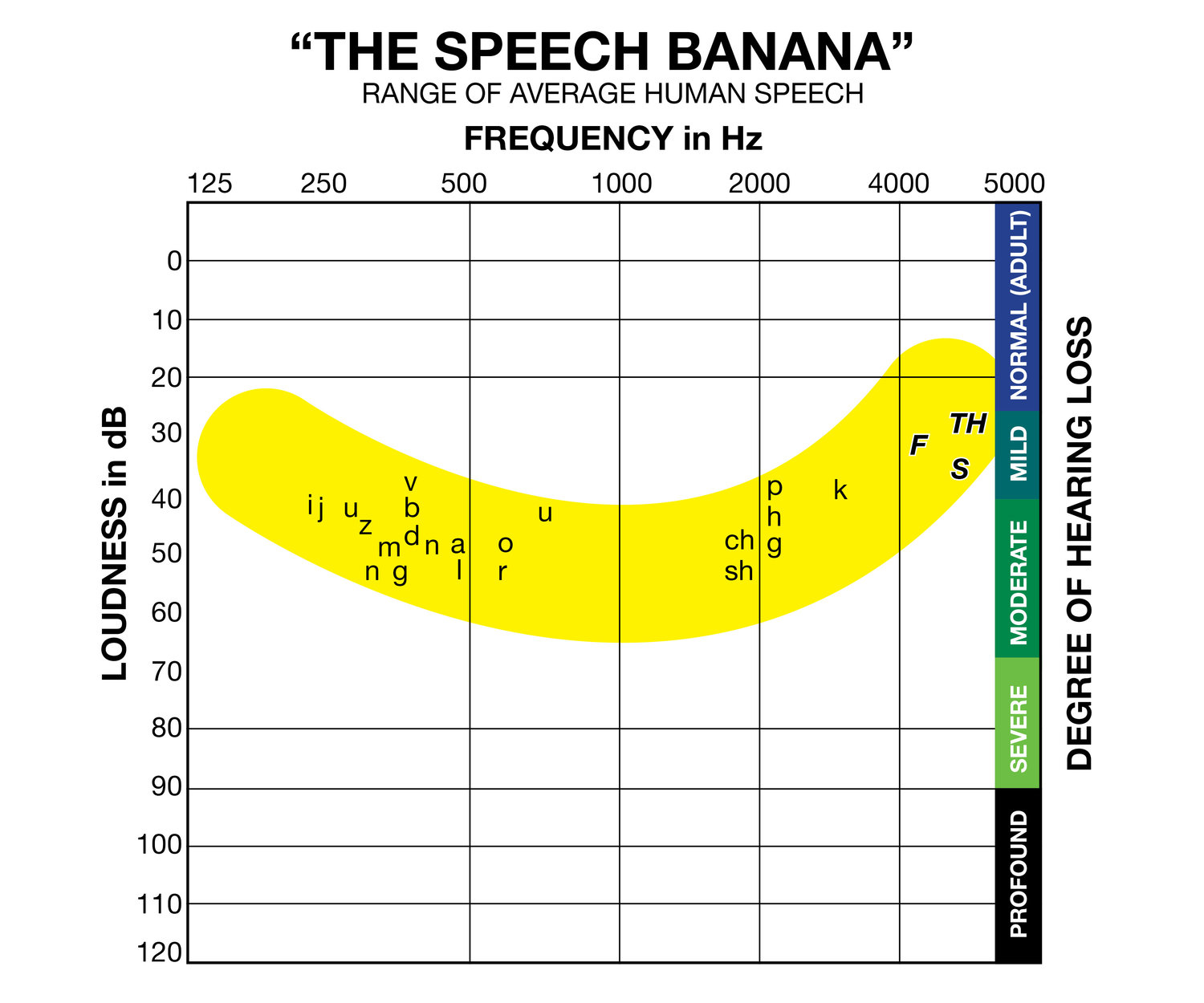 If necessary, a middle ear measurement will be used to back up the audiometry so that you have the most accurate results possible.
What's the next step?
Once your test is concluded, we will explain all of the different options before proceeding. We will always recommend the one best suited to your specific situation and personal medical history. If it is decided that you require earwax removal, you can read more about it here.
Will I need hearing aids?
After your level of hearing loss is determined, our audiologist will (with your permission) discuss hearing aids if they are needed. We will consider the lifestyle you wish to maintain or achieve and then advise you on which level of hearing technology is most appropriate.  The style, size, specifications and pricing will be factored in on-screen so that you can make a thoroughly informed decision.
Should you decide to try a lower-tech level first then we will offer you a 3-month trial window should you need to upgrade further down the line. If you require financial support, we offer interest-free and low-interest finance solutions tailored to your needs.
At the end of the consultation you should have complete knowledge of your hearing levels, when damage has occurred and how you can resolve things in future. Indeed, our aim is to give you the confidence to try sets of hearing aids safe in the knowledge that if you are not totally satisfied by the outcome, you are free to re-assess and try others before any commitment.
Fitting and aftercare
If you decide to go ahead after the consultation, paperwork will be drawn up and a deposit taken, then copies of all documentation will be put into a folder for you to take home and peruse. If you have further questions, our office and audiologists are on-hand to ensure total clarity throughout.
After 5-10 days, you will arrive for a fitting. This will involve in situ audiometry – a feature of modern hearing aids that allows for the measurement of hearing thresholds using the built-in sound generator and hearing aid receiver, as well as your subjective impression. Afterwards, you'll be given a 'Real Ear Measurement Test' – a further assessment designed to make sure that your device is calibrated correctly. We do this by measuring the relay from inside your ear to the device, thus taking out individual perceptions and going by the actual data. By using these methods, your new hearing system is guaranteed a perfect fit.
You will be given a step-by-step guide on hearing aid instruction, maintenance and best practices. Next, you'll be booked in for a further check-up two weeks later to make sure that you're getting the very best out of your devices.
After this appointment, our audiologists will be more than happy to assist you any time you feel the need. We pride ourselves on our level of aftercare; you simply won't find anywhere better.
Moreover, we operate an open-door policy at our hearing centres when it comes to advice, repairs and maintenance for your hearing aids. You will always be welcome, whatever the weather!
If you have any questions or queries, then please don't hesitate to get in touch on:
Hinckley- 01455234600 Leicester- 01162623279 Rothwell- 01536713775
Or why not email us on <admin@hear4u.co.uk>