This week, we interviewed Tony Iveson, one of Hear4U's expert audiologists who has been a valued member of our team for the past 2 years. Tony is a registered audiologist with over 25 years of experience in the industry and has a unique approach to providing a professional and efficient experience for our clients. He is not only knowledgeable and skilled, but also known for his relaxed and friendly demeanour that makes people feel comfortable and at ease during their appointments.
With his extensive experience and compassionate approach, Tony is a valuable asset to Hear4U, and we are proud to have him on our team.
Tony's career in audiology dates back to 1996, when he was first registered as an audiologist. 
Over the years, he has gained a wealth of experience, working for some of the leading hearing aid dispensers in the industry, such as Amplifon and Boots. His extensive background in the field has given him a broad understanding of the challenges people with hearing loss face and the best solutions for them. While at Amplifon, Tony held the position of branch manager and was responsible for training other hearing aid dispensers, further demonstrating his expertise and commitment to his profession.
With such a strong background, it's no surprise that Tony is so highly regarded within the industry.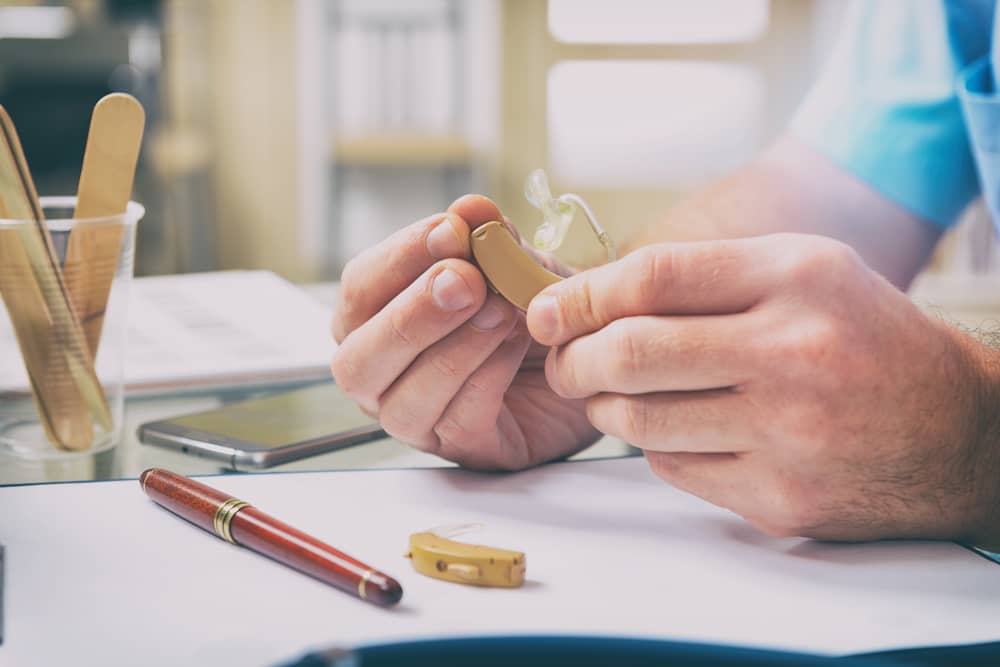 When we asked him why he chose audiology as a career path, Tony shared with us that his passion for the field stems from his personal experience and a desire to help those with hearing issues.
Tony used to work in finance, but very soon, he realised that he wanted something more fulfilling. This was further fuelled by his mother's profound deafness in both ears which inspired him to want to help others experiencing similar difficulties. Fitting his mother's first hearing aid was an important and meaningful moment for him as he saw the positive impact it had on her life. The device also allowed her to hear people's voices during her final days, as the hearing system is typically the last one to go when people are dying.
This experience had a profound impact on Tony and inspired him to pursue a career in audiology where he could help others in similar situations.
How Has Audiology Changed Over the Years?
Given Tony's extensive experience in audiology, we were interested in getting his perspective on how the field has changed over the years.
According to Tony, there has been a massive transformation in the technology being used. While in the past, a simple screw was used to fit and program hearing aids, audiologists and hearing care providers now have a wide range of cutting-edge technology to choose from.
Nowadays, hearing aids not only help people with hearing difficulties to be 'like others', but also give them abilities that others might not necessarily have. For example, there is a feature available which automatically translates and streams languages into the user's hearing aid in real time.
Tony fully realised the massive difference that hearing technology can make in people's lives when he fit an ornithologist with a pair of Oticon More. The client was overjoyed to hear birdsong, which was something he'd never been able to do before. The experience served as a powerful reminder to Tony of the positive impact that hearing aids, especially the most recent ones, can have.
Has the Stigma Around Hearing Loss Subsided?
We asked Tony if he thinks the stigma around hearing loss has subsided over the ears. On the whole, he believes that the stigma has indeed been reduced.
He expressed that this can be attributed to a number of factors, including the fact that hearing aids are now more cosmetically acceptable. With the widespread use of earbuds, having something in your ear is no longer seen as strange. Additionally, the cost of hearing aids has dropped significantly, while the technology has seen major advancements, making them more accessible and appealing to a wider range of people.
Tony believes these developments have contributed to reducing the stigma surrounding hearing loss and have made it easier for people to seek help for their hearing difficulties.
Tony will be taking on the role of lead audiologist at Hear4U's new clinic in Newark, set to open doors on March 1st.
When asked about his plans for the clinic, he stated that he is eager to immerse himself in the experience and help as many people within the local community as possible. He is committed to providing professional and efficient care while also maintaining a relaxed and friendly environment. Tony aims to build a strong reputation for both himself and Hear4U in the Newark community, helping to improve the lives of those with hearing difficulty.
Book Your Appointment at Our New Clinic
You can now book your earwax removal or free hearing test appointment at our clinic in Newark! If you're unable to visit the clinic, don't worry: we're happy to come to you! We offer appointments within a 30-minute drive radius to provide you with expert hearing care in the comfort of your home. To book your appointment, simply click the button below.